SOLARMAN software OEM customization service is a configuration service solution based on the SOLARMAN solar & storage monitoring SaaS platform, which provides end users with an excellent user experience, creates brand reputation for professional renewable energy companies, and enhances user stickiness.
This customized service supports web platforms and mobile apps, providing differentiated services for different user groups such as device manufacturers, installers, and distributors, including customized domain names, customized platform names, exclusive logos, languages (supports English, Portuguese, Spanish languages, Polish, Dutch, etc.), colors, email signatures, customized privacy agreements, APP listing services, etc., to help enterprise-level customers improve their brand image.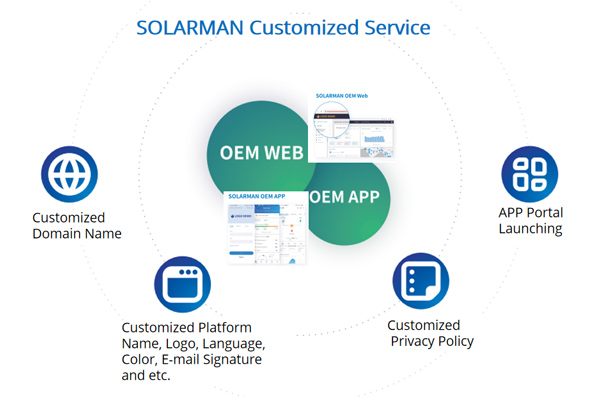 Personalized domain name service
Users use their own selected domain name to access the SOLARMAN customized platform. Optional options include: special domain name configuration, CNAME resolution configuration and domain name registration services.
Personalized color scheme
Radiant Yellow、California Red、Crystalline Green、Wisteria Violet 、Catalina Blue or Custom color matching



One-stop project service
SOLARMAN software OEM customization integrated services are connected by professional project managers, who can calmly handle all aspects of demand confirmation, contract signing, demand development, quality control, product delivery, post-maintenance, APP listing, server purchase, domain name application, SSL certification and other aspects. Ensure the successful operation of products.
Service plan
Currently, SOLARMAN software customization development services are divided into basic version, advanced version and VIP version. Users can choose corresponding services according to their own needs.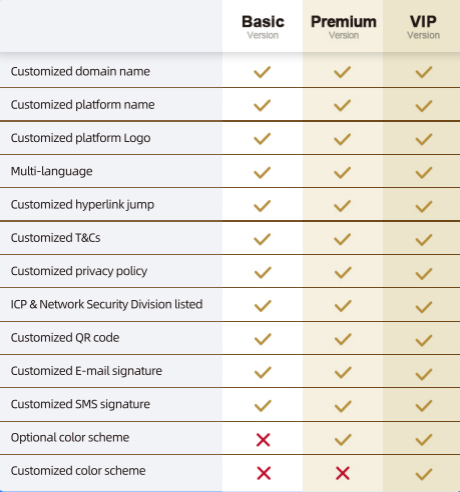 Case introduction
As of the end of September 2023, SOLARMAN software OEM customization solutions have served customers in more than 20 countries and regions around the world, including China, France, the United States, Italy, South Africa, India, Australia, and Slovenia. While helping customers highlight their personalized brand identities, SOLARMAN has also won high trust from customers around the world, fully embodying our value concept of "win-win".