SOLARMAN Smart Meter is specially designed for energy management. it works to measure and control electricity consumption of apartment renting, household, commercial and industrial electricity, charging station, PV plant, intelligent building, chain stores and etc,. It features in high reliability, high accuracy, compact size and easy to install, etc.
Single-Phase Smart Meter (WIFI)
Product model: DDZY422-D2
Rated voltage: 220V
Six-circuit Multi-function Smart Meter(WIFI)
Product Model: DTSD422-D3
Rated Voltage:3*220V/380V
Features
Two-way metering,measurin genergy feed-in and energy purchased;
Standard DIN-Rail 35mmmounting, easy for installation;
Real-time data transmitting&data analysis by using SOLARMAN Cloud Platform;
Instant display of production/grid-tied/energy purchased/consumption data.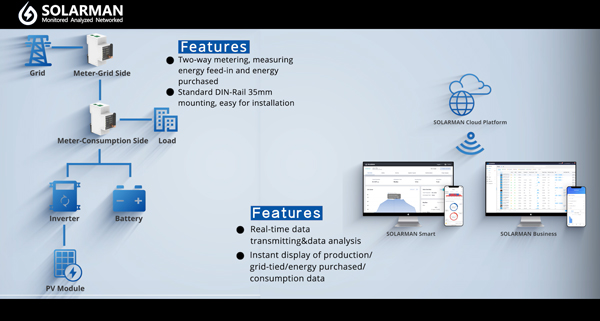 Installation Guide for Single-Phase Smart Meter (WiFi)
Step 1:Turn off the power supply;
Step 2:Connect grid L-line to L-line IN interface and N-line to N-line interface;
Step 3:Connect load L-line to L-line OUT interface and N-line to N-line interface;
Step 4:Turn on the power supply;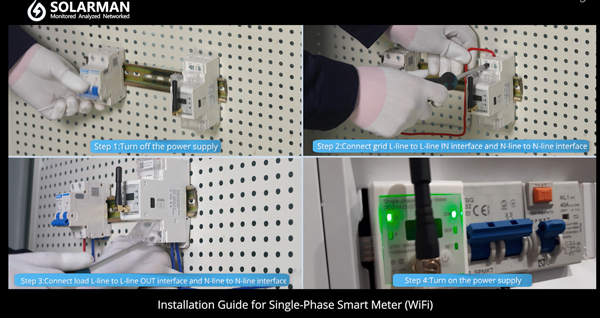 Installation Guide for Six-circuit Multi-function Meter (WiFi)
Step 1:Connect CTs;
Step 2: Connect gird phase-A/B/C/N to meter A/B/C/N interface;
Step 3:Connect CT 1/2/3 or CT 4/5/6 to cable phase-A/B/C correspondingly;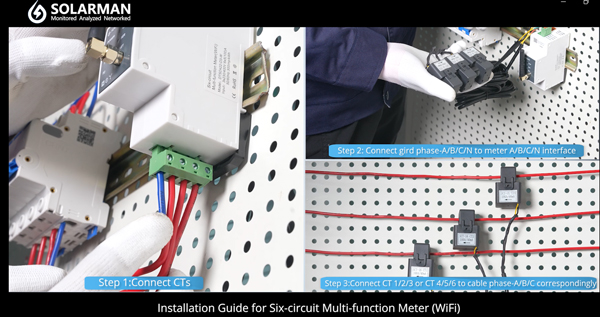 Quick access to energy production and consumption anywhere and anytime.
The SOLARMAN smart meter ensures that every measurement data counts.
More products pla visit: https://www.solarmanpv.com/products/smart-meter/
For smart meter installtion Video Guide pls visit: https://www.solarmanpv.com/supportservice/video/