"This is by far the best website to use if you are in my position of solar technician, lots of data to analyze and being able to compare installations gives better perspective and effectiveness to the work we provide."
——O&M Installation Provider Gabriel Lorscheiter
"Foi uma evoluo bastante significativa, continue inovando de forma simples e objetiva."
——Provedor de instalação O&M Talysson
"Jestem bardzo zadowolony z aktualizacji portalu.Teraz jest jeszcze bardziej profesjonalny i wygodniejszy dla klienta"
——Dostawca O&M instalacji Roman
SOLARMAN is a brand of IGEN-Tech, specialized in intelligent PV solutions. Recently, SOLARMAN monitoring platform has been optimized and upgraded, which has received high praise from all over the world ever since it was on the racks.
Optimized&Upgraded UI Interface
The new SOLARMAN platform adopts SOLARMAN logo color as the main color with the characters of simplicity, loftiness and layering. Furthermore, the new flow chart refreshes visual and interactive experience.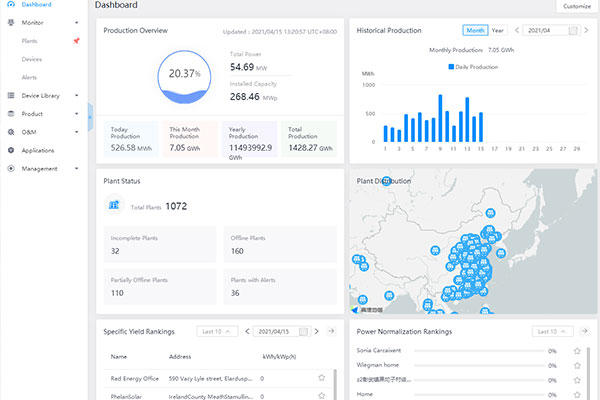 Intuitive Plant List Display
Plant List Settings
Compared with fixed layout, the new plant list display allows users to set visible parameters and parameter sequence.
Click the Gear button on the right to operate plant list setup. Moreover, column width supports drag-and-drop setup.
PS.(Parameter: Plant Name, COM, Alert, Capacity, Production Power, Power Normalized, Trend, Daily Production, Peak Hours Today, Tag, Last Update, Creation Date, Operational Status, Plant Type, System Type, Monthly Production, Accumulated Production, Yesterday PR and etc,.)
Convenient Screening Function
Plant Screening
Focusing on plant list, SOLARMAN enables the display of plant at all status. And with the optimization based on filter option (plant status, tag and etc,.), it will greatly improve the user experience.
-Filter Option: Plant Character; Plants created by this business/Plants authorized to this business;
-Filter Option: Plant Area; Type the area to find the target plant;
-Filter Option: Tag; Click certain tag to find the target plant.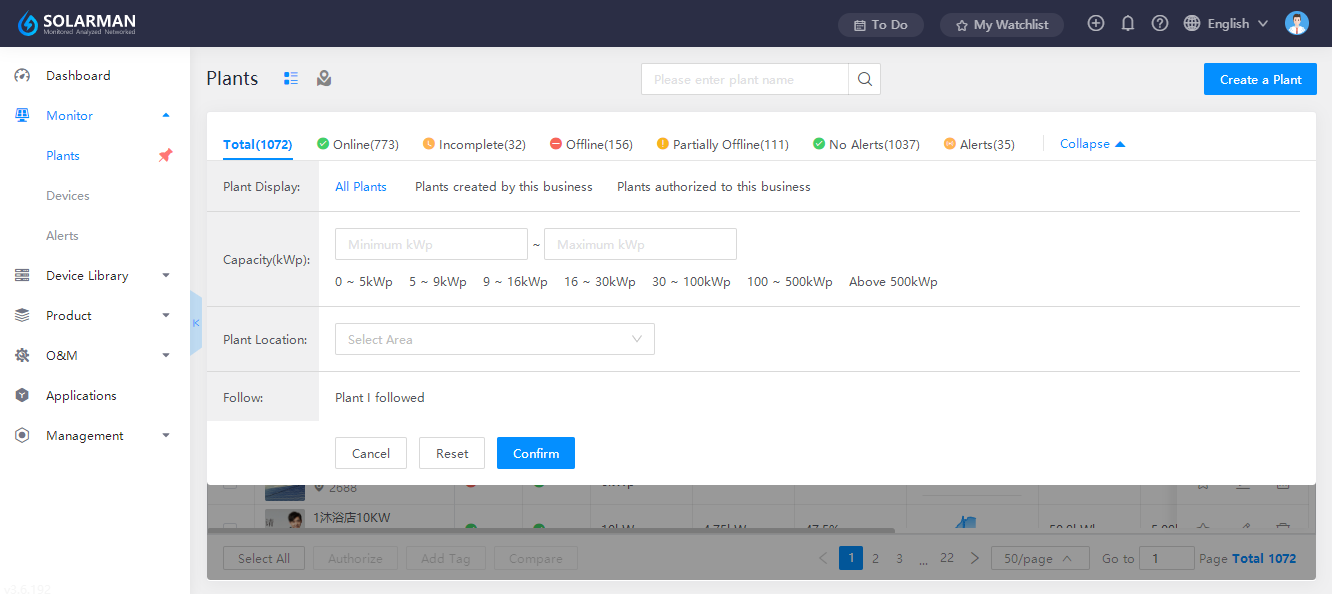 Flow Chart&Real-time Data
1. For residential plants, SOLAMRAN simplifies the dashboard, which removes some interference information.
2. For self-consumption plants and energy storage plants, SOLARMAN optimizes the visual experience of flow chart.
-Data of production power/capacity (power normalized) have been added to production segment.
-Data of battery SOC have been added to battery segment.
-Tab switching realizes checking plant real-time data in a more convenient manner.
Easy Operation
User-defined Dashboard
Users can check plant number, geographical distribution, production status, work order implementation and output and etc, in a more macro perspective.
Furthermore, user-defined dashboard allows users to change boards sequence in a more convenient way.
Demo Account Obtaining
Leave your E-mail address here and we will contact yo