SNEC 2020 was held in Shanghai, China on August 8, 2020. With the theme of "Interconnected Energy, Empowered Future", IGEN-Tech launched SOLARMAN PV Monitoring&Management Platform (Version 3.0), hardware products, residential monitoring solution, industrial&commercial monitoring solution, which presented a green, efficient and intelligent energy world for the audiences.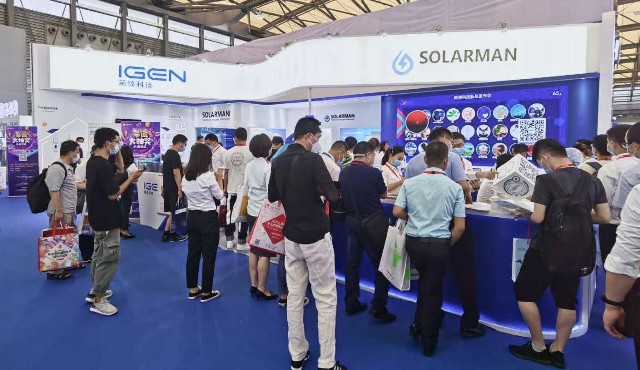 SOLARMAN PV Monitoring&Management Platform (3.0)——SOLARMAN Business
More than 1,000,000 power plants have been registered on SOLARMAN portal by the end of June, 2020. The portal has managed more than 25GW PV assets. After several years of honed, SOLARMAN Business has become a powerful tool for plant&device management.
One stop management of accessing, monitoring, statistics, control and authorization
1)Fast accessing with low cost
Supported devices: inverter, module(microinverter/optimizer), combiner box, weather station, tracking bracket, wind-driven generator, diesel generator, UPS, battery, meter, video surveillance, charging pile, new energy vehicle
2)Flexible management
Device parameters and alert information can be transmitted to designated roles.
SOLARMAN Business achieves a customized setup of control permission.
3)Effective device control
SOLARMAN Business enables a device control in seconds and a firmware upgrade in minutes. Customized command and single/batch parameter setup can also be realized.
Based on accurate acquisition and regular troubleshooting, SOLARMAN Business is equipped with AI diagnose, IV curve, virtual weather station and other functions, offering an extremely interactive experience with multi-dimensional data and multi-functional analysis.
IGEN-Tech gave a full display of residential monitoring solution, industrial&commercial monitoring solution at SNEC 2020.
Data Logger
Data logger is specially designed for Distributed Household/Industrial&Commercial plants. With its brand new design, it features in high reliability, high accuracy and high efficiency. For household plants, it supports the monitoring of inverter, energy storage battery and other devices. For industrial&commercial plants, it is durable. And it supports inverter, combiner box, meter, weather station and other devices.
RF Gateway
RF gateway supports local networking, no communication wiring is required. Furthermore, RF gateway features in long communication distance and strong through-wall ability.
Electrical Safety Monitor
Electrical safety monitor can monitor circuit voltage, current, the temperature of distribution box and etc, which can reduce the owner's loss.
Douyin Debut+Live Lottery, breaking the limitation of time and space.