SOLARMAN, your trusted partner in securing energy IoT devices. Our products WiFi Stick Logger LSW-5 and WiFi Module have achieved ETSI EN 303 645 certifications for meeting the rigorous European cybersecurity standards, ensuring the highest level of protection for your connected world.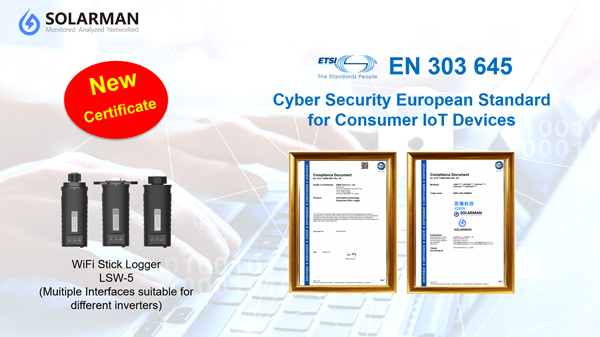 With the increasing prevalence of IoT devices, it is crucial to safeguard your data and privacy from potential threats. SOLARMAN provides you with peace of mind by offering energy monitoring and management products that have undergone thorough scrutiny and testing, meeting the demanding European cybersecurity standards.
Why choose SOLARMAN for your energy monitoring IoT security needs?
Certified Excellence: Our products have been rigorously tested and certified to comply with the stringent European cybersecurity standards. You can trust in our commitment to delivering excellence in security.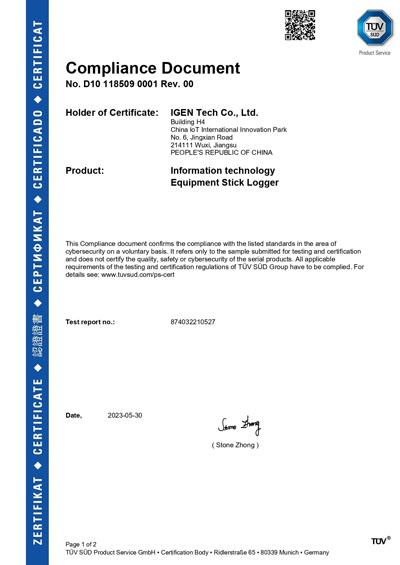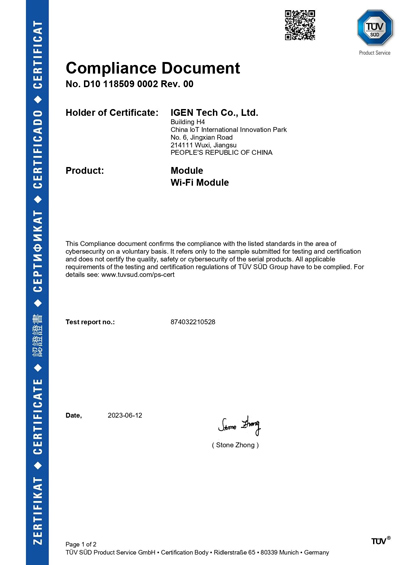 Robust Protection: We prioritize the security and integrity of your data, implementing advanced security measures to prevent unauthorized access, data breaches, and malicious attacks.
Seamless Integration: Our products seamlessly integrate with your existing devices such as inverters, providing a secure and hassle-free experience while ensuring the privacy and security of your connected environment.
Future-Proof Solutions: We have been committed to providing customers with convenient, safe and intelligent new energy IoT 24/7 monitoring solutions, insisting on starting from the user's point of view, taking network security and user privacy protection as an important part of the company's product architecture strategy and improving customer satisfaction.