PV optimizer is an electrical device used in solar system to enhance system's efficiency and performance. Here are main characteristics of PV optimizer:
Maximum Power Point Tracking (MPPT): The primary function of PV optimizer is to track the maximum power point of the solar array in real-time, maximizing the system's power generation efficiency.
Distributed Optimization: PV optimizer is installed either on each solar cell module or each module string. The distributed installation minimizes power losses in the PV array and improves the overall system reliability.
Fault Detection and Monitoring: PV optimizer is equipped with fault detection and monitoring capabilities, allowing real-time monitoring of PV array's operational status and performance. By monitoring parameters such as output power, current, and voltage of each module or string, failure can be detected promptly, facilitating maintenance and troubleshooting.
Enhanced Safety: PV optimizer reduces the risks of fire hazards and electric shocks in the PV system.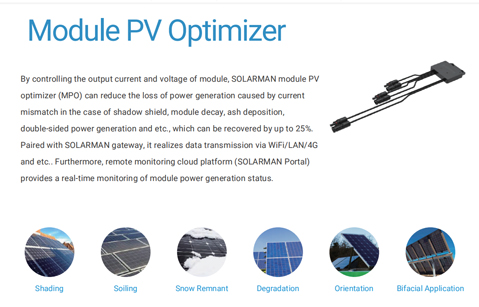 Communication Interface: PV optimizer has communication interface, enabling remote monitoring and management of PV system. Through monitoring software, users can view real-time production data, fault information, and performance parameters, facilitating remote monitoring and O&M management.
High Energy Efficiency: PV optimizer adopts efficient power conversion technology to improve energy utilization and reduce energy losses of the system.
SOLARMAN PV module optimizer is featured in these characters, which can enhance the power production efficiency, reliability, and safety of solar system, resulting in increased energy yield and extended system lifespan.